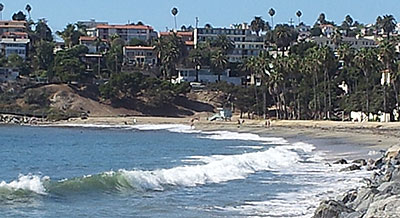 Walk along the gentle and quiet beach front and experience breathtaking views of the ocean sea, dotted with the silhouettes of wind surfers against the backdrop of massive container-laden cargo ships. Beyond, the familiar outline of Santa Catalina Island at its closest point to the Southern California shore. Mile-long Cabrillo Beach is popular for swimming, surfing, scuba diving and volleyball. Take a wind surfing lesson. Walk to the end of the fishing pier that parallels the breakwater, and ask the locals what's running. Or bring your gear along and join them. Picnic tables, a snack bar and a playground are available. As whale-watching season nears its end, grunion season begins. Twice a month, like clockwork, these silvery fish emerge from the water at Cabrillo Beach to lay their eggs in the sand under a full or new moon. During part of the season it's legal to catch them, but by hand only! It's fun as a spectator sport, too, watching crowds of people with flashlights trying to catch these slippery fish.
Parking is available at Cabrillo Beach. The parking lot opens at 5:30 AM and closes at 10:30 PM. Parking is free for the first 20 minutes and then is $1.00/hr to a maximum of $9.00 per day. Payment is made in cash or with a credit card.
Cabrillo Beach has a paved boat launch ramp. The boat lauch ramp is best reached from Shoshonean Road off Via Cabrillo Marina. The boat launch ramp and parking lot open at 5:30 AM and closes at 10:30 PM. Parking is $2.00/hr for vehicle and boat trailer to a maximum of $15.00 per day. There is no extra charge for the boat launch ramp. Vehicles with a boat trailer attached may be left over night or for several days at $15.00 per day. Vehicles without a boat trailer attach cannot be left over night and may be towed if left past 10:30 PM. Payment is made in Payment is made in cash or with a credit card.
Cabrillo Beach is actually two beaches: one outside the breakwater with ocean surf, and the other within the harbor, gentle and quite perfect for families with children. You can access the pier from the beach entrance to take advantage of the great fishing or just for a relaxing stroll in the sea air and a different and dramatic look back at the coast. Nearby, situated in a costal park is the Cabrillo Marine Aquarium.
Cabrillo Beach
3720 Stephen M White Drive
San Pedro, CA 90731