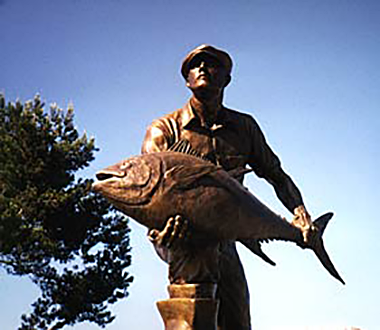 In 1892 Southern California Fish Corp. was the first cannery in Los Angeles Harbor. In 1903 a technique of preparing and canning was developed to can sardines, mackerel, bluefin tuna, yellowfin tuna and albacore. In 1912 the first fresh fish market was introduced in San Pedro and along with other markets that followed, they eventually supplied fresh and iced fish throughout our nation.
Before long, flotillas of purse seine boats were sailing down from northern waters to fish in San Pedro. By 1920 there was a large fleet of fishing boats and methods of fishing such as purse seine, lampara, jig, live bait, gill net, mackerel scoopers and long line boats. Los Angeles Harbor became the largest fishing port in the nation. The fishing industry in San Pedro was originated primarily by European and Asian fishermen each bringing fishing knowledge from their native lands.
In 1935, following the depression, 6,000 people were directly employed in the fishing industry. Its payroll was the largest in San Pedro, approximately three-quarters of a million dollars per month. The industry was at its peak during World War II. During the fifties, sardines and mackerel gradually diminished causing the decline of the industry in San Pedro.
In 1992 the Fishermen's Fiesta Committee planned to erect a Fishermen's Memorial. In 1995, a new Volunteer Committee of fishermen's descendents and fishermen was formed to see the project to completion. This beautiful Memorial was then conceived with a Bronze Fisherman and a Memorial Wall to preserve the history of the Fishing Industry. With the assistance of our city's 15th District Councilman, Rudy Svorinich Jr., L. A. Department of Recreation and Parks, L. A. Cultural Affairs Department and through the generosity of the community of San Pedro this Memorial became a reality.
Fishing Industry Memorial
510 S. Harbor Blvd.
San Pedro, CA 90731