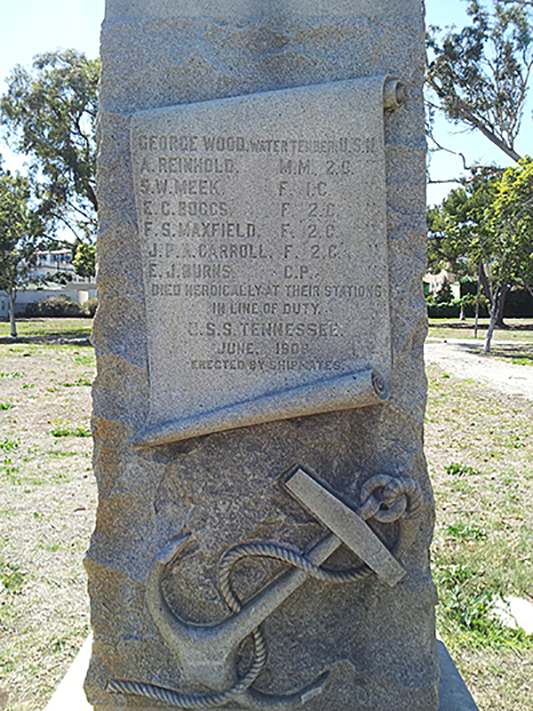 The town's cemetery was created in 1883, when August Timms deeded three acres of land to the newly-incorporated City of San Pedro. He paid $1 to reserve the central burial plot for himself, and died that same year. Many local pioneers are buried in this old cemetery, with burial records dating back to 1879 (prior to Timms' deed). With the growth of San Pedro and the creation of Green Hills Memorial Park in 1948, the San Pedro Cemetery, which had been acquired by the City of Los Angeles as part of its consolidation of San Pedro in 1909, was turned over to the Department of Recreation and Parks. Its name was changed to Harbor View Memorial Park, although the harbor cannot be viewed from any part of the little cemetery.The cemetary is under the City of Los Angeles Department of Recreation and Parks. It is open Monday – Sunday from 7 AM – 2 PM, closed two Fridays a month. The monument in the above photo reads:
George Wood (-1908) Watertenber U.S.
A Reinhold (-1908) M.M. 2.C.
S. W. Meek (-1908) F. 1.C.
E. C. Boccs (-1908)F. 2.C.
F. S. Maxfield (-1908)F. 2.C.
J. P. A. Carroll (-1908)F. 2.C.
E. J. Burns (-1908) C.P.
Died Heroically at Their Stations, In Line of Duty, USS Tennessee (ACR-10), June, 1908, Erected by Shipmates
"The USS Tennessee then patrolled off the California coast until 24 August 1908 but suffered a boiler tube explosion on 5 June, which killed seven men, while steaming at full speed. The explosion occurred just after the rear admiral in charge of the squadron had visited on a tour of inspection; had the explosion taken place a few minutes earlier, he might have been among the casualties. Since the ship's 16 boilers were sub-divided into separate watertight compartments, the rest of the engineering section was not affected." [1]