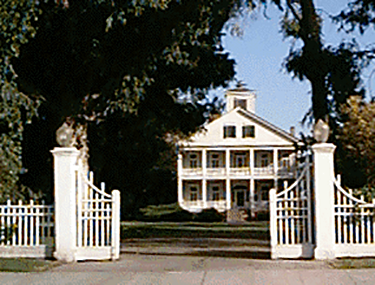 A founder of the City of Los Angeles, developer of transportation, Civil War veteran and state senator, General Phineas Banning was the first to petition Congress for an appropriation to begin work on a breakwater and lighthouse.
This exquisitely-restored Greek Revival mansion built in 1864 features an extensive collection of Victorian decorative arts and furnishings. As you enter you will experience the elegance of the Victorian era as you tour the 23 room mansion which has been restored to reflect the eclectic nature of a home lived in by several generations. Highlights of the tour are the General's office, the parlor where he entertained friends and colleagues, a formal dining room complete with fine China and crystal, a Victorian kitchen and the private quarters.The museum is located in a 20-acre park. Guided 90-minute tours explore the mansion, a one-room schoolhouse and a stagecoach barn.
In early March usher in spring by attending the "Wisteria Regale" while dressed in your finest Victorian-era attire (optional).
In early December start off your holiday season with the "Victorian Christmas", Victorian holiday decorations and horse drawn trolley rides are special features of this celebration.
You'll enjoy taking a step back in time, letting your imagination take flight and experiencing life as it was 100 years ago through the eyes of one of the founders of Los Angeles. Guided tours are available. Phone: (310) 548-7777
Tour Schedule

Tuesday

12:30pm, 1:30pm, 2:30pm

Wednesday

12:30pm, 1:30pm, 2:30pm

Thursday

12:30pm, 1:30pm, 2:30pm

Saturday

12:30pm, 1:30pm, 2:30pm, 3:30pm

Sunday

12:30pm, 1:30pm, 2:30pm, 3:30pm
The Banning Museum
401 East M Street
Wimington, CA 90744